Obituary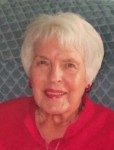 February 8, 2018
Born in Hermansville, Michigan
Resided in

St. Clair Shores

,

Michigan
Obituary
Gloria Irene Gaitley, age 92, died of natural causes on February 8, 2018, in St Clair Shores, Michigan. She is survived by her children, Dave (Chris) of Grosse Pointe Woods, Michigan, Jane of Newport Beach, California, Mike (Mike) and Steve (Kate) of San Francisco, California and Tom (Diane) of Needham, Massachusetts. Gloria is also survived by her grandchildren, Jennifer, Erica, Caitlin, Kate, Julia, Louis, Audrey and Jack. Gloria was preceded in death by her husband of 63 years, Dan Gaitley.

Gloria was born on September 27, 1925 in Hermansville, Michigan to parents Louis and Ida Dani. She was the first of five amazing children, followed by Dick, Carole, Bobbie and Judy. She graduated from Hermansville High School and subsequently attended St. Mary's of Rochester, Minnesota, where she received a nursing degree. She was proud of her profession, and was dedicated to attending to the sick and needy. Among her nursing jobs, she was a director of a nursing facility, an assistant to an internationally-recognized neurosurgeon and a floor nurse at Wayne County General Hospital.

Gloria also was a loving wife and mother. Despite being pursued by a variety of gentlemen, she met and then married the love of her life, Dan Gaitley, on July 18, 1953. They raised five children together, first in Wayne, Michigan and then in Grosse Pointe Park, Michigan, where the family moved in 1968.

Gloria was busy! She loved playing bridge, traveling, snow skiing, shopping (more on that below) and playing golf with Dan, as well as her sisters. And she played golf like she lived her life: always forward progress and straight shooting.

Gloria was a terrific cook, although her skills in the kitchen were sometimes underappreciated by her young kids who just wanted to eat hamburgers every day. She cooked for poolside BBQs, fondue parties, holiday breakfasts and many birthday celebrations and everyone was better off (and stuffed) because of her kitchen skills. Her collection of cookbooks was unmatched, and that was before she discovered online recipes (dutifully printed out by Dan).

And there was Christmas. Christmas was Gloria's favorite holiday, with the Gaitley house adorned inside and out with festive decorations. Special thanks to Bronner's all-year Christmas store, where Gloria was a loyal patron. And speaking of shopping, many thanks to Gloria for making such a large contribution to the Michigan economy through her many shopping trips and online purchases.

Gloria had a practical side too. When one child developed a contagious illness, each of the siblings were put in the same room so that she could care for all of them at the same time when they inevitably became sick together. And in a clever twist, Gloria would schedule annual dentist appointments for all five kids on the day after Halloween.

She will be remembered as a loving and thoughtful person who, even with the smallest gestures, enriched the lives of those around her.
Special thanks to Anne Khoury and the caregivers at Shorepoint Village, where Gloria resided for the last two years of her life.

A service is scheduled for Saturday February 24, 2018, at 10:00 am at St. Joan of Arc Catholic Church, 21620, Greater Mack, St. Clair Shores, Michigan, preceded by an in-state viewing at 9:30 am. All are welcome to attend and celebrate Gloria's life.

In lieu of flowers and donations, please just share Gloria's gentle spirit with those around you.
Services
Service
A. H. Peters Funeral Home of Grosse Pointe
20705 Mack Avenue
Grosse Pointe Woods
,
MI
US
48236
Visitation
A. H. Peters Funeral Home of Grosse Pointe
20705 Mack Avenue
Grosse Pointe Woods
,
MI
US
48236
Visitation
St. Joan of Arc Catholic Church
21620 Greater Mack
St. Clair Shores
,
MI
US
48080
instate Saturday, 9:30 am until time of service 10:00 am
- Show more -
Service
St. Joan of Arc Catholic Church
21620 Greater Mack
St. Clair Shores
,
MI
US
48080