Obituary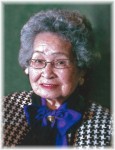 July 14, 1925
-
June 17, 2019
Born in Detroit, Michigan
Resided in

Detroit

,

Michigan
Obituary
Born July 14, 1925 in Detroit, passed away June 17, 2019. Preceded in death by her dear husband, Harry (d1990). Beloved mother to Jerry (Reta), Gwen (Tony) and the late Ron (the late Cyndi). Loving PoPo to six grandchildren (Heather, Holly, Stephen, Emily, Sam and Leah). Bock to nine great-grandchildren (Jacob, Evan, Noah, Xander, Scarlett, Kai, Ava, Lincoln and Owen). Sister to Josephine and late siblings Lily, Shan and Hang Chan.
Evelyn returned to America in 1940 to marry Harry, raise a family, run a laundry, and two restaurants. Widowed in 1990 and never a driver, she said she was too "scary", then learned to use the bus system to manage everyday tasks such as doctor appointments, going to the mall or thrift shops and grocery shopping,
She joined the Wee family with a 5th grade mission school education and no English. Her mother-in-law taught her what it was to be a married woman with a house filled with people and how to work in a Chinese laundry. It was probably a steep learning curve, but learn she did and once she began having her own children, she would surround them with instruction and support.
Evelyn learned to read by looking at newspapers, magazines and calculating math from customer packages in the laundry. Everyday experiences, observing her surroundings and a love for movies were her strongest teachers . She knew the names of all the actors and actresses on the screen.
Happiest when she was cooking for her family, Evelyn's love transferred into the dishes she made for her family and for the extra friend who might happen along. Her family, her children, grandchildren and great grandchildren were her life.
If she was cutting up some foodstuff and someone walked by, it gave her great pleasure to summon you over so she could stuff some tasty morsel into your mouth with an extra dollop of sauce. If you made enough passes, you could nearly fill up on this bits. Really, food was love.
When travelling on the buses, she'd cajole some drivers into dropping her off directly in front of her apartment building door rather than at the next bus stop. This was not only because she was loaded down with groceries, but because the next time she rode with that driver, she'd have and individually packaged bag of nuts or candy that was that driver's favorite. Or sometimes, she'd bring them a whole loaf of homemade banana loaf bread. It was not unusual to find a frozen banana bread in her freezer.
There were a couple standards by which she lived: do not go to a person's house empty handed. Take something, a baked item, fruit or candy. And, don't over talk disappointment or failure, but plan on how to do better next time.
Knitting and crocheting were favorite hobbies. She didn't necessarily do it often but she liked it. Occasionally, a vest, hat or baby dress would get finished. She had loads of yarn stashed away. My favorite was a golden yellow mohair winter hat with an extra-large pom pom on top. She liked for me to wear it when we shopped because she was so short that she could look up and see the pom pom.
Tony recalled:
I remember them, Evelyn and Harry, my mother- and father-in-law having a canary in their apartment. I can picture a little yellow bird singing in a cage. I'm probably the only one who remembers that because Gwen and anyone else I'd told says it is not true and I'm must and was either dreaming or hallucinating. My mother-in-law was kind of fuzzy about it the last time I asked her some years ago.
But, she did have a pet. It came in a package of watercress that she'd bought at Kroger- a snail. She kept it for quite some time, even feeding it. I suppose she didn't have the heart to hurt it. Although she could cut a whole chicken in two with three blows, but she was very kind to that snail.
I remember frantic Sunday dinners where all the burners were on high.
When we'd take a vacation, she insisted on housesitting because she did not want to leave the house alone. It was during one of these stays that she named our two cats, Izzy and Snow, "The Bad Boys". They were particularly mischievous. Years before we had a cat named "Monkey" and Evelyn got a real charge out of watching Monkey eating corn on the cob.
Also during one of her housesitting visits, she'd pick not only our front yard's weeds, but those of the neighbor next door. They didn't mind at all.
There was a small strip mall a couple blocks from her apartment. She'd catch a neighbor or one of the maintenance crew to run over to the strip mall at 12:00pm when their pizzas were ready. She'd pay for two slices, give one to the person who walked to the store and eat the other.
But she could get angry. When our kids were young, Evelyn and Harry would regularly take the only day off they had to babysit for us. They would even bring food and the pot to cook it in. On this one occasion, Harry let Evelyn off at the corner so he could park, she left the pot on the curb as she had too many other things to carry and expected Harry to pick up the pot and bring it in when he'd parked the car. Well, he parked the car and walked around the front of the car leaving the family rice pot at the curb. When he walked into the house empty handed, Evelyn asked him were the pot was. As he walked the curb, he saw it was gone. Evelyn stayed mad for the rest of the day.
Evelyn was feisty, speaking her mind, gently scolding people or children in the hopes she would correct their "wrong behavior" and explained she'd continue doing this as long as she was able. It didn't matter if it was a stranger or not politically correct. She wanted the best for everyone. And as importantly, she never wanted to be beholding to anyone. Not a neighbor, acquaintance, or even her own children. She had lived alone over 29 years and always wanted to be independent.
Arrangements at A. H. Peters, 20705 Mack Ave., Grosse Pointe, MI. 313.884.5500
Visitation on Thursday, June 20, 2019 (Family 2:00-3:00pm) 3:00-9:00pm
Funeral on Friday, June 21, 2019 at 10:00am
The family will gladly receive floral arrangements or contributions to St. Joseph Manor
HFA or the charity of your choice.
To send flowers or a remembrance gift to the family of Evelyn Wee, please visit our Tribute Store.
Services
Visitation
A. H. Peters Funeral Home Grosse Pointe Woods
20705 Mack Avenue
Grosse Pointe Woods
,
MI
US
48236
Service
A. H. Peters Funeral Home of Grosse Pointe
20705 Mack Avenue
Grosse Pointe Woods
,
MI
US
48236